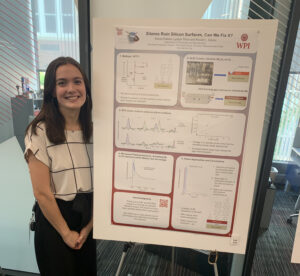 Emma Pellerin
Undergraduate Student, B.S. '23
Department of Chemistry and Biochemistry
Worcester Polytechnic Institute
100 Institute Road
Worcester, MA
01609
Contact via email:
ejpellerin followed by WPI's…
Emma is currently researching deposition techniques of ultra-thin niobium oxide on silicon surfaces in conjunction with organic silane derivatization to test surface charge retention.
If you think this project sounds interesting and would like to work on a similar MQP, then contact Prof. Grimm to join now!
What brought you to WPI?
Independent research opportunities in my undergraduate were always essential when considering where I wanted to attend university. WPI not only has those experiences available but also has project-based learning integrated throughout its academic track.
What are your research interests?
My first 2-3 years of undergraduate were spent researching the synthesis and passivation of large-grain and thin-film cesium titanium bromide. For my MQP I have since shifted gears to experimenting with our in-house Schlenk-line adapted atomic layer depositor (ALD) to deposit ultra-thin layers of niobium oxide on the surface of silicon wafers to passivate from native oxidation.  In tandem with the niobium, I derivatize organic silane layers and measure surface recombination velocities in hopes of retaining charge lifetimes.
What will you be doing immediately following your time at WPI?
I have applied to several graduate school programs, mainly astrophysical and planetary science related, in line with my astrophysics minor. I hope to earn my Ph.D. in a related field to study extraplanetary objects through different ground and sky-based spectroscopic techniques.
What are your long-term professional goals?
Research is not only something I have experience in but something I love to do. After my Ph.D. I am hoping to continue my work in academia either through teaching or as a scientific researcher for interstellar space-related programs.