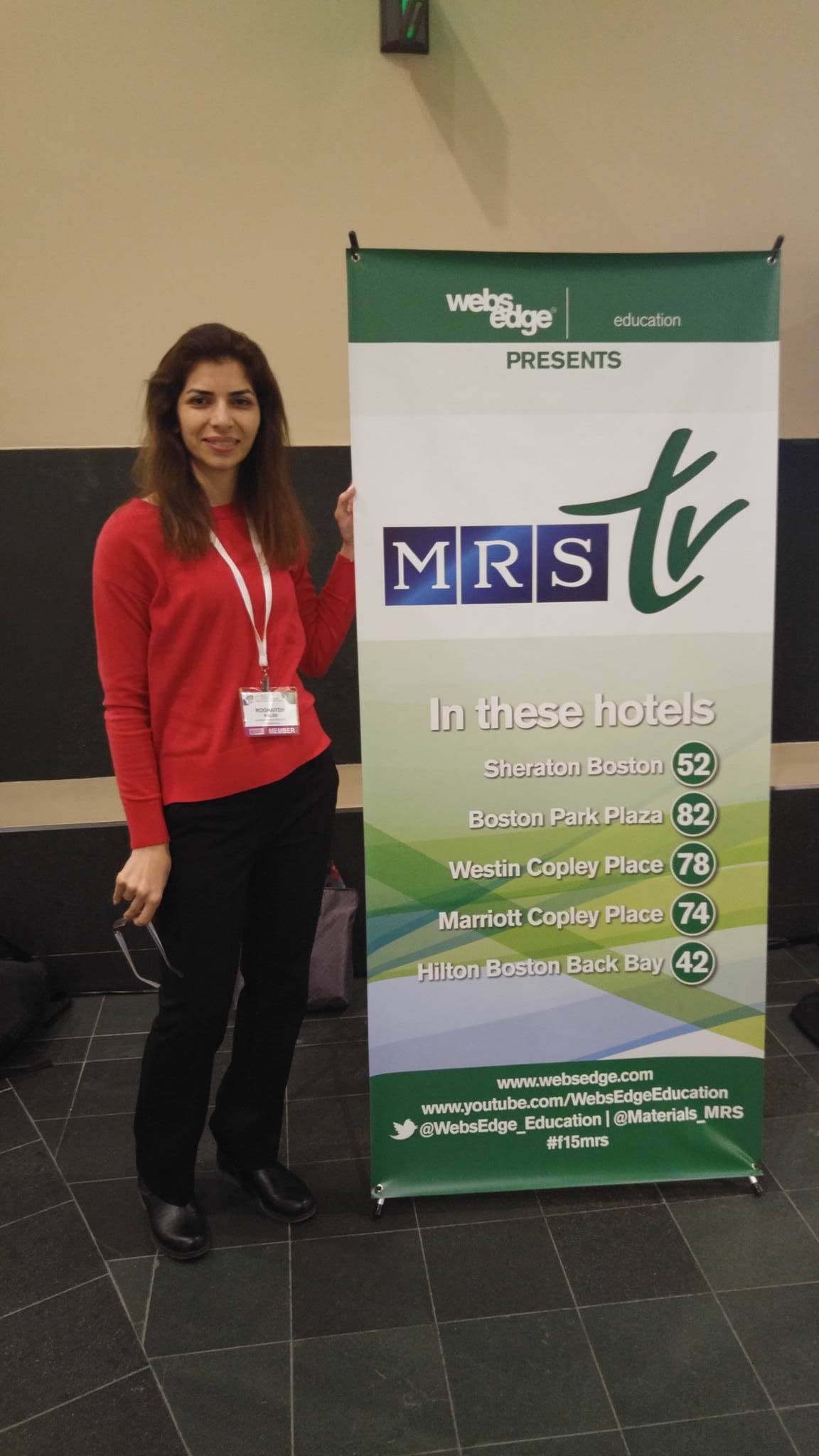 Roghi E. Kalan
Postdoctoral Researcher, emerita
Department of Chemistry and Biochemistry
Worcester Polytechnic Institute
100 Institute Road
Worcester, MA
01609
Room 2239, Gateway Park
rebrahimikalan at wpi.edu
Roghi has completed her postdoctoral studies in the Grimmgroup and she is currently a staff scientist at AR Metallizing.
Roghi completed her undergraduate degree in Tabriz, Iran, concentrated on applied chemistry. As a Master\'s student, Roghi worked with Ablolali Alemi in the Division of Inorganic Chemistry of the University of Tabriz, Chemistry Department focusing on synthesis and characterization of lanthanum doped bismuth tin oxide pyrochlore nanocrystals.
For PhD studies, Roghi moved to Maine and worked with Carl Tripp group in the surface chemistry lab in University of Maine, Orono. She did modification and characterization of metal oxide surfaces for applications such as pore size tuning in mesoporous materials and photocatalytic activity of coated magnetic particles.
Publications
Supercritical Fluid Atomic Layer Deposition: Base Catalyzed Deposition of SiO2
R. E. Kalan, B.†A. McCool, C. P. Tripp
Langmuir,†2016, 32, 7170-7179
10.1021/acs.langmuir.6b01669
P25 titanium dioxide coated magnetic particles: Preparation, characterization and photocatalytic activity.
R. E. Kalan, S. Yaparatne, A. Amirbahman, C. P. Tripp
Applied Catalysis B: Environmental, 2016, 187, 249–258
10.1016/j.apcatb.2016.01.008
Preparation and characterization of neodymium tin oxide pyrochlore nanocrystals by the hydrothermal method
A. Alemi, R. E. Kalan.
Radiation Effects & Defects in Solids 2008, 163, 229–236.
10.1080/10420150801976436
Presentations
Photoelectrochemistry of CH3NH3PbI3 perovskite crystals in contact with a series of metallocene redox couples in THF and comparison with the behavior of Si(111), MRS Spring meeting, Phoenix, Arizona, 2016
2016-3-1-mrs-poster
Nonaqueous photoelectrochemistry of CH3NH3PbI3†perovskite thin films and single crystal wafers, MRS Fall meeting, Boston, Massachusetts, 2016
http://users.wpi.edu/~rebrahimikalan/.uploads/2016-12-01-MRS-Talk.pptx