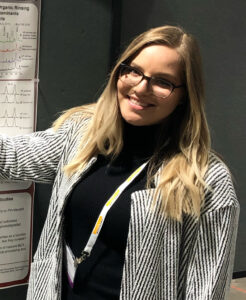 Julia Martin
Graduate Student
Department of Chemistry and Biochemistry
Worcester Polytechnic Institute
60 Prescott St.
Worcester, MA
01605
Room GP2232, Gateway Park
"jmartin2" followed by WPI's…
ORCID: 0000-0003-0563-0813
Julia completed her B.A. in Chemistry at Assumption College where she studied chemistry. Her current studies at WPI involve probing and quantifying the surface chemistry and physics of layered semiconductors.
Publications                                                                                                 
Quantification of Surface Reactivity and Step-Selective Etching Chemistry on Single-Crystal BiOI(001).
Julia L Martin, Roy Stoflet, Alexander D. Carl, Katarina Himmelberger, Sergio Granados-Focil, and Ronald L. Grimm
Langmuir, 2020, XXX, XXXX-XXXX.
10.1021/acs.langmuir.0c00980 
Open-Circuit Photovoltage Exceeding 950 mV with an 840 mV Average at Sb2S3–Thianthrene+/0 Junctions Enabled by Thioperylene
Anhydride Back Contacts.

Curtis W. Doiron, Nicholas A. Fitzpatrick, Clare P. Masucci, Julia L. Martin, Alexander D. Carl, and Ronald L. Grimm

ACS Omega,
2020
,
5
,
 16875–16884
.

10.1021/acsomega.0c02077
.