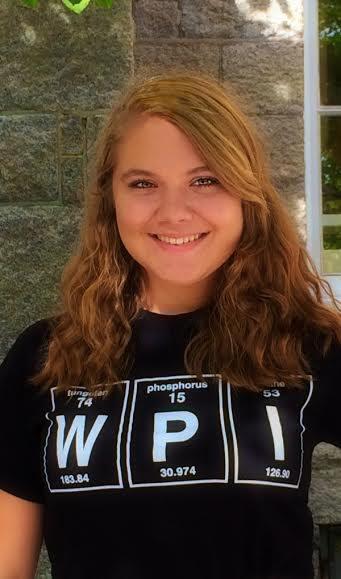 Emma Travassos 
Undergraduate Student, B.S. '19
Department of Chemistry and Biochemistry
Worcester Polytechnic Institute
100 Institute Road
Worcester, MA
01609
Contact via email:
"eitravassos" followed by WPI's…
Emma researched the possibility of a single molecule solar cell utilizing primarily a porphyrin and organic dye based system. The desired outcome of this research is to take a functionalized porphyrin and adhere this molecule to a surface via a linker that can transport electrons but block electron holes. This type of system offers a manufacture process characterized by ease and low cost as well as unique properties such as semi-transparency and semi-flexibility that are not seen in traditional glass based systems. The prospect of this type of system is promising, although challenges exist in maximizing light absorption and electron transport, determining the best porphyrin for ease of synthesis, and how to best adhere this molecule to a surface to generate and collect energy.
If you think this project sounds interesting and would like to work on a similar MQP, then contact Prof. Grimm to join now!
What brought you to WPI?
I came to WPI because I was eager to participate in the project opportunities offered by the university and I was looking for a community of students passionate about the sciences and making positive impacts on the world through our work!
What are your research interests?
My research interests lie in green chemistry and solar energy. I believe that just as easily as chemistry can pollute, it can be used to create a better world and research that focuses on solving energy problems or reducing hazardous byproducts and waste is essential.
What will you be doing immediately following your time at WPI?
I hope to attend graduate school to pursue a masters degree in secondary education to teach chemistry and inspire student interest in pursing STEM fields.
What are your long term professional goals?
My long term professional goals are focused on improving science education for all students, especially those who may not have the same access to quality education, so that students may move forward and pursue whatever they desire. I also hope to gain the skills to become an effective mentor so that I may positively affect the lives of others in ways beyond simply providing an chemistry education.